MEHRON AUSTRALIA'S 21 DAYS OF HALLOWEEN 2019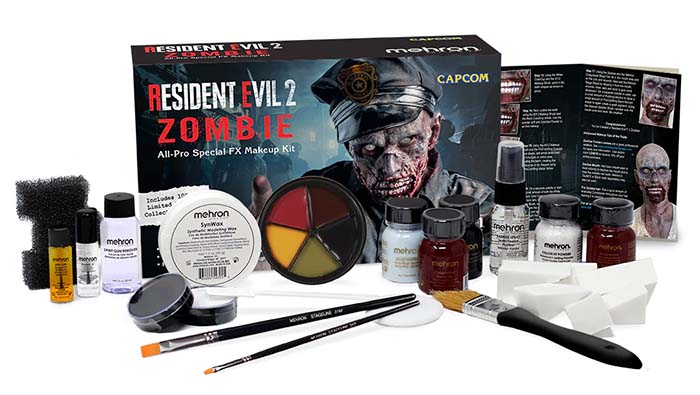 Our favourite time of year is back again; Halloween, we are searching for artists from around Australia who love Halloween and Makeup as much as we do.
Submit your Halloween makeup look(s) for a chance to WIN a Resident Evil 2 Kit plus 2 pairs of Primal Contact Lenses.
Submit your look (s) on Instragram from 01/10/19 to 21/01/19 and follow all rules listed below. Each day we will select a submission, on day 21 we will select from all submissions to date a winner. Once the 21 finalists have been selected the Mehron team will evaluate each finalist and select the 2019 winner and post our the winning prize before date of Halloween 31/10/19.
The winner will be announced on 22/10/19.
THE RULES
​
1. Australian Residents Only
2. Follow @Mehronaustralia on Instagram.
3. Post a high-resolution image of your original Halloween makeup look.
Multiple submissions are allowed but not required!
Re-submission of past looks are acceptable, but must be reposted as a new post within the contest time frame 01/10/19 to 21/01/19
Blurry or low-resolution images will NOT be accepted.
4. In the first row of your caption tag the following #21daysofMehronHalloweenaustralia #Mehronaustralia.
5. Following the tags, list any Mehron products used along with a short description of your character and inspiration.
DETAILS
If selected as a finalist you will be sent a Mehron Release Agreement allowing us to showcase your work.
If a model and / or photographer is used - each collaborator will be required to sign the release form.
Finalist will also need to supply us with a high-resolution image of the look.
Due to the quick turnaround of this competition, we will require a reply, signed documents
and photographs sent to us within 24 hours of closing.
Prize will be posted immediately after receiving the Mehron Release Agreement from the winner with the intention of the winner receiving the prize before the date of Halloween 31/10/19.